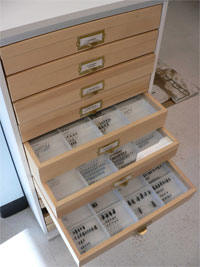 The Invertebrate Ecology Lab, located on the University of Alberta campus, is home to the Spence lab. The lab is equipped for processing and identifying field collected invertebrate samples, rearing arthropod cultures, digital imaging and computer assisted statistical analysis.
The lab houses synoptic collections of saproxylic and epigaeic beetles (Carabidae and Staphylinidae) and is located in the same building as the University of Alberta Strickland Entomological Museum and we have close ties with taxonomists at the Canadian Forest Service Northern Forestry Center Arthropod Collection (PDF) in Edmonton.
We maintain cultures of water-boatmen (Gerridae) and flesh flies (Sarcophagidae) in the lab. In the past, the lab has been home to cultures of praying mantids (Mantodea), plant bugs (Mirridae), walking sticks (Phasmatidae), house flies (Muscidae), fruit flies (Tephritidae), black widow spiders (Therididae) and the white spotted sawyer beetle (Monochamus scutellatus).
We use dissecting microscopes for the identification of specimens and a digital microscopy imaging system is available for photography and image analysis. This setup can be mounted on both a standard dissecting scope and a phase contrast light microscope to permit identification of the smallest specimens and structures.  Three 4X4 trucks are available year round for field work and  ATVs are stationed at the off campus research facilities for use in field duties.