For International Participants
U.S. citizens or permanent residents traveling to Canada require proof of their US status such as a passport, a certified birth certificate, or a U.S. Permanent Resident Card, together with photo identification.
However, citizens of both Canada and the United States will be required to present a valid passport when entering the United States by air.
The State Department strongly recommends that all citizens of both Canada and the United States carry passports when crossing the U.S. / Canada border.
Participants from outside Canada and the United States require a passport and may also require a visa. Check with the Canadian consulate in your country for current information regarding entry into Canada and make your necessary preparations well in advance.
Citizens from countries other than US who do not require a visa to enter Canada must now apply for an Electronic Travel Authorization (eTA) before they depart for Canada. This is a new requirement now in effect.
Visit the website of the Canadian Embassies/Consulates in your country for more travel information.
If you plan to drive in Canada, you should bring your driver's license or obtain an international driving permit prior to arriving
Location of Edmonton
on a North American map on a Canada map on an Alberta map
Getting to Edmonton
By Air
Edmonton International Airport (YEG) has excellent airline connections. There are direct flights from many American cities (Los Angeles, Chicago, Minneapolis, Denver and Seattle), as well as from all major Canadian cities (including Montreal, Toronto, and Vancouver). There are connecting flights from Tokyo, Beijing, Shanghai, London and Frankfurt. Useful information on major airlines serving the airport and flight schedules is provided on the Edmonton International Airport website.
The airport is about 30 minutes drive from the University of Alberta campus. Average taxi fare is CDN$55. Major credit cards are accepted by the taxi drivers. Sky Shuttle services are available and can drop passengers off at the University of Alberta student residence (Lister Hall), HUB Mall, Varscona Hotel, and other major hotels in the city. One-way shuttle fare is about CDN$18 per person, and return fare (open ended) is about CDN$30 per person. Rental cars service are provided in the airport by Alamo, Avis, Budget, Enterprise, Hertz, and National. Currency exchange is also available inside the airport.
Finding Ways in Edmonton
Finding your way around in Edmonton is easy. Avenues run east to west and streets run north to south. Avenue numbers increase from south to north and street numbers increase from east to west. The approximate geographic centre of the city is 100 Ave. and 100 St.
University of Alberta campus is located at 114 St. and 87 Ave. See a detailed instruction to get to U of A campus from the International Airport. You can download a U of A campus map.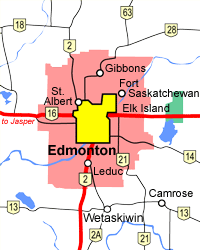 To find more about the City of Edmonton and the University of Alberta, go to local information.
Back to the Americas XI Conference main page.