Ecological Approach >
Factors Affecting Participation: The Physical Environment
The physical environment can be built (i.e., created by people) or it can be natural (i.e., trees, rivers, etc.). Some physical environments encourage activity; others hinder a person's ability to be active. For some individuals, especially those with limited mobility, the physical environment can be full of obstacles that make it difficult to participate in physical activity.
What are some of the aspects of the natural physical environment that affect activity?
Weather:

walking on snow and ice can be treacherous, cold weather and rain can discourage outdoor activities

Time of day:

individuals may feel less safe when it is dark out

Air quality:

smog, exhaust, and other fumes may irritate the lungs or make physical activity unpleasant

Topography:

the shape of the land—hills, valleys, rivers, forested areas—may affect activity levels
Open space: parks, fields, and natural areas encourage play and outdoor activities
What are some of the aspects of the built physical environment that affect activity?
Transportation planning:

sidewalks are needed for safe walking, curb cuts are needed for strollers, wheelchairs, scooters and walkers, planning needs to accommodate pedestrians, not just cars

Walkability:

neighbourhood services and stores encourage walking

Location:

centrally located recreation facilities encourage participation
We can also think about the physical environment within and around buildings, such as grocery stores, recreation facilities, offices, or buildings that provide services. Ask the following questions to determine whether or not the physical environment hinders or encourages physical activity:
Is the building accessible for people of all abilities?
Are services accessible and accommodating for people with different needs?
Is parking plentiful and affordable? Are there accessible parking stalls?
Is the building close to bus services?
How far is the building from other community services?
Is the neighborhood surrounding schools and work places walkable?
Does the building offer amenities that support physical activity?
Supporting Physical Activity by Ensuring an Accessible Physical Environment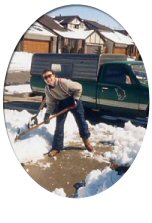 What can you do to ensure the physical environment supports physical activity?
Have an accessibility audit conducted at your organization
Use a walkability checklist to assess your neighborhood's walkability and take steps to improve walkability where possible
Consider and implement changes that could make it easier for people to use your facility
Implement changes to the physical environment that would support physical activity for your staff, your clients, or your community. For example, ensure stairwells are painted and well lit to encourage use.
Collaborate with other community organizations to address the physical barriers to active living in your community
Advocate, advocate, advocate: talk to municipality leaders and community members about changes that would make the physical environment more accessible
Encourage and support regular snow removal on all sidewalks and walking paths
Want to learn more about this topic?
Useful Resources
Quick links in Ecological Approach section