Making Changes > Ideas >
Ideas for the Built Environment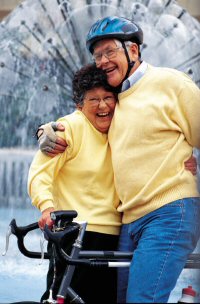 An environment that supports physical activity encourages people to make active choices more easily. Removing barriers makes the active choice the easy choice.
Some ideas for the built environment:
Ask the high school industrial arts class or a local welding company to build benches and bike racks on trails or outside town stores.

Install signs on trail routes that show the distances between major points as well as signs to remind drivers to watch for pedestrians or cyclists.

Build wide sidewalks within town (on both sides of the street) and to all facilities.

Construct trails to your rural community hall, lake, river, school or other popular destination.

Improve access to parks. Make sure that people of all ages and abilities can use community parks. Parks are not just for kids anymore.

Improve access to, into and around buildings and services for people who are walking or wheeling.

Consider people walking and biking when you're planning road maintenance and traffic controls. Increase ways to cross the highway or road safely.

Build community gardens with raised beds for people of all abilities to use.
Find Out More
Making Changes > Ideas > Content