Newsletter - February 2023
Words of the Chair

I am Valentina Galvani, the new Chair of the Economics Department.
Welcome to our newly revamped newsletter, which will now be updated throughout the year to showcase our latest achievements.

You can follow us on Twitter @UofA_Econ and LinkedIn.
Faculty
Undergraduate Students
We are proud to announce that our Economics Team has won the Bank of Canada Governor's Challenge for the second time in three years (2021, 2023). Our team finished in the first runner-up spot in 2022, and this year the cup is returning to Edmonton. The team consisted of Selam Abraham, James Davison, Vivek Gala, Kayla Stephanson, and Aishwarya Tyagi. The Department is extremely grateful to the faculty members coaching the team, Dr. Malik Shukayev and Dr. Max Sties.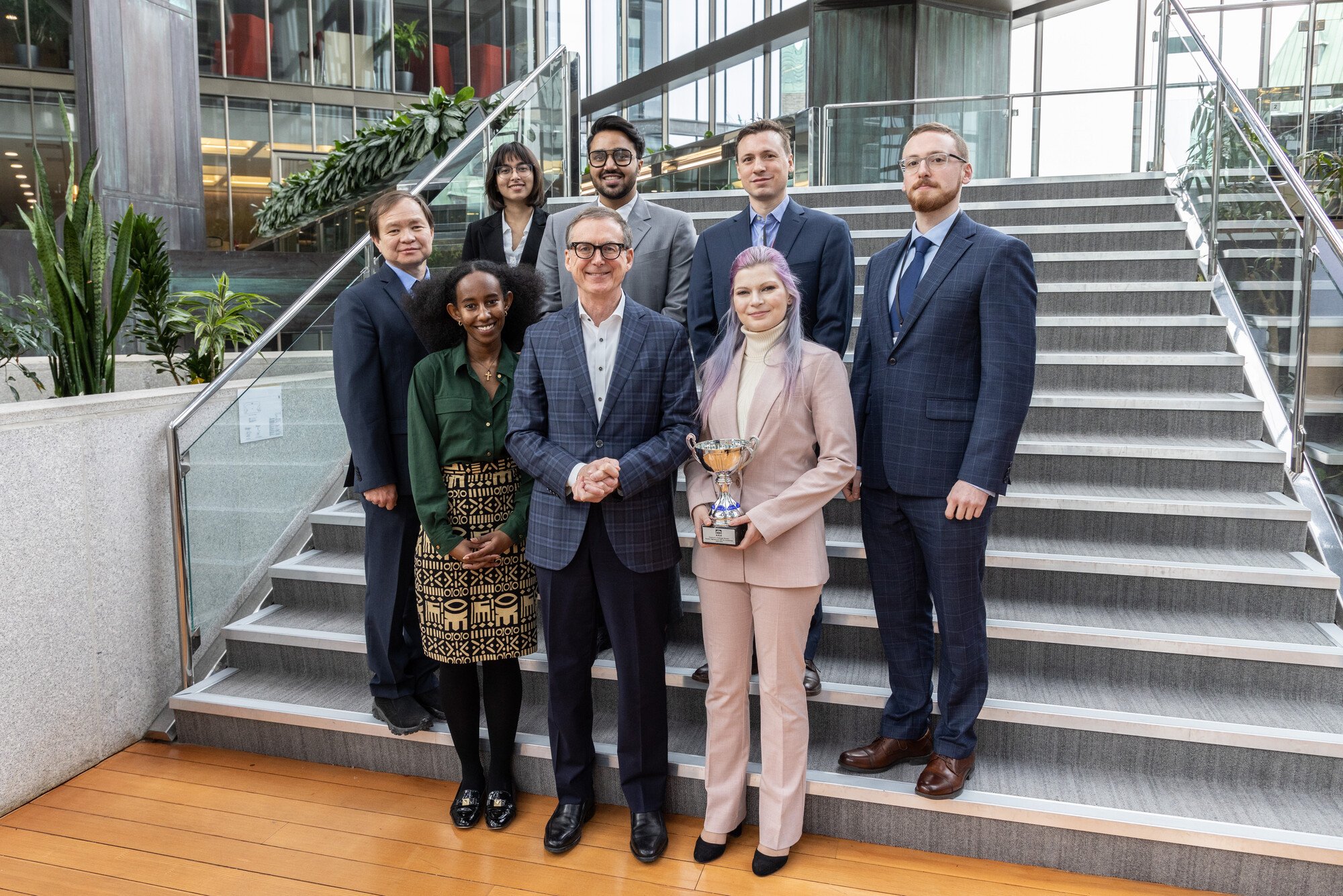 A picture of our team with Tiff Macklem, Bank of Canada Governor.
Graduate Students
Five PhD students successfully defended their PhD thesis in 2022: Samprita Chakraborty, Scott Auriat, Liang Ma, Francis Chiparawasha, and Kwabena Bediako Boateng. Congratulations and we wish you all the best as you begin your careers!
In June 2022, seven of our PhD students shared their research in a Policy Pints event hosted by the Economics Society of Northern Alberta. We look forward to this annual event and hope that it can be enjoyed in person this year.
Four of our graduate students had the opportunity to intern with a local financial institution, working on projects related to credit risk. We thank Dr. Sebastian Fossati and Dr. Valentina Galvani for their efforts in securing funding and supervising projects.
Kwabena Bediako, graduate student of our department, published "Stability of international fisheries agreements under stock growth uncertainty" at Journal of Environmental Economics and Management. The paper is coauthored with Bruno Nkuiya.
Acknowledgments
Our last Chair Professor Rick Szostak stepped down in July 2022, after five years of amazing service to the Department and the University. The Department is very thankful for his indefatigable advocacy. Fortunately, Rick has decided to stick around for a few more years, so there will be more occasions to enjoy his brilliant conversation. As a new Chair and formerly Associate Chair, I found his counsel invaluable.

Service to the Community
Professor Stuart Landon created a Personal Finance Calculator. It's free, has no ads, and does not collect users' data. The goal is to help individuals make informed credit card and mortgage decisions, while understanding how inflation affects their purchasing power. The calculator is completely customizable and easy to use. If you have a Mac or iPhone, you can download it here.
Follow us
We are excited to announce that we are once again active on social media and we would like to invite you to follow us on Twitter @UofA_Econ and LinkedIn.
Through social media, you will have the opportunity to connect with us and stay informed about our projects, events, and initiatives. Additionally, you will also be able to connect with other alumni, and share your own experiences and updates. We also want to create a space for our alumni to connect with each other, and we invite you to participate in the #uofaeconalumni hashtag on both platforms. This is an opportunity to share your memories and achievements with the wider alumni community and stay connected with each other. We look forward to staying in touch with you through our social media platforms!