Rural Route to Active Aging:
A Guide for People Who Want to Stay Active as They Age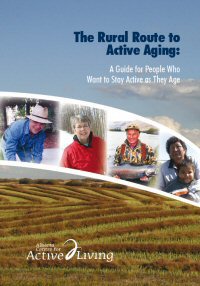 As part of the Rural Route to Active Aging project, we developed a booklet for older adults living in rural communities.
This Guide is for people who know they should be active but are not sure where to start. People who are currently active but who want more ideas about how to be active will also find the Guide useful.
The guide encourages year-round activity and suggests different ways to address the barriers people face living in rural areas. Some examples of these barriers include:
Winter weather.

Lack of organized programs.

Transportation.

Being able to walk safely on rural roads.
The booklet is divided into six sections:
Why Be Active?

Setting Goals.

Getting Going: Preparing to be Active.

Active Ideas.

Helping to Make Your Community More Active.

Find out More.

References.
The Guide is available free of charge online. Download the 24-page booklet in PDF format (26 pp, 536 KB).