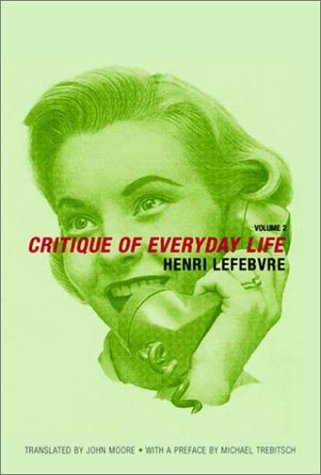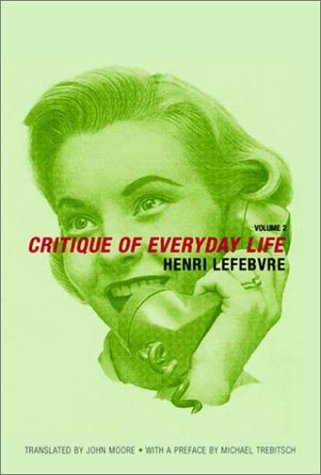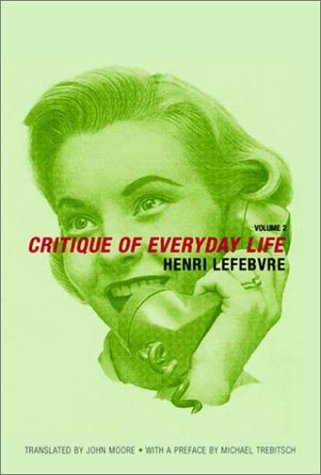 This page is intended as a rapid access resource for those seeking substantive material and news of new publications on Henri Lefebvre, the French marxist philosopher. It does not include simple bibliographic sites, encyclopaedia type articles nor basic lectures on Lefebvre's ideas, which can be easily found via search engines.



"Lefebvre" Webpages
Remi Hess 'La Méthode d'Henri Lefebvre in Multitudes - revue en ligne

Rob Shields Henri Lefebvre: Philosopher of Everyday Life (2001)

Rob Shields Henri Lefebvre, Love and Struggle - Spatial dialectics (London: Routledge 1999)

Rob Shields Four Lectures on Lefebvre (Powerpoint)

Rob Shields Key Readings on Lefebvre (Secondary Literature - see also Bibliography of Lefebvre's works below)

Michael Kelly "Towards a Heuristic Method: Sartre and Lefebvre", Sartre Studies International, vol. 5, no. 1, 1999, 1-15.

Michael Kelly "Everyday Marxism: The convergent analyses of Roland Barthes and Henri Lefebvre", in James Dolamore (ed.) Making Connections: Essays in French Culture and Society in Honour of Philip Thody, Bern, Peter Lang, 1999, pp. 135-146.

Kristen Ross 'Review of Henri Lefebvre's The Production of Space' in Not Bored 30, 1999.

Kristen Ross 'Review of Henri Lefebvre's Introduction to Modernity' in Not Bored 25, 1996.

Michel Trebitsch Works by Lefebvre and Websites on Henri Lefebvre (Revised Feb 2001 - in French).

Rob Shields, The Production of Space, Précis translation. Urban and Regional Studies Working Paper (Sussex University 1986).

Guilhermino Monteiro. 1998. Homage to Lefebvre, Jornal a Página da Educação (1998 - in Portuguese)

Armand Ajzenberg. Henri Lefebvre: La société au point critique ou de l'individu écartelé, on the formation of "Groupe de Navarrenx"and planned publications, originally published in Regards 38 (1998 - in French).

Christian Schmid, Henri Lefebvre und die Produktion des urbanen Raumes, dissertation, (Universität Bern, abstract only, 1999? - in German)

Anon. Postmodern Spacings Seminar paper, Mechanical Planet. 1996. Workshop and Archives produced for the Institute for Advanced Technology in the Humanities. Contact Lisa Brawley:l-brawley@uchicago.edu.

Bo Grönlund, Urbanity: Lived space and difference (June 1999). Urbanity & Aesthetics, Copenhagen University, Seminar, 21.3.1997, revised 16.6.1999 Bo Grönlund on Henri Lefebvre: Urbanity: Lived space and difference
Art, Video and Articles using Lefebvre's ideas (last updated 2005)

Sam Appleby, ' Taken for Granted - The Representation of Space and Place' (Artist's statement)

Jordan Crandall, 'Bioinformatic Alignments', Territories.

Katherine Arens, 'Central Europe and the Nationalist Paradigm' (University of Texas at Austin 1996)

Henri Lefebvre, ou le fil du siècle / réal. Raoul Sangla ; enquête Jacques de Bonis. - Paris : La Sept : CDN Prod. [prod.], cop. 1988 (Paris : FR3 [diffuseur], 1988). - 1 VIDEOCASSETTE [VHS] (55 min.) : couleur SECAM. - (Océaniques) Caméra David Carr-Brown, Laurent Didier; son Laurent Langlois; montage Véronique Holley.

More... please send us your links...
Disclaimer: It goes without saying that this page is constantly under construction... An attempt has been made to contact the authors this page links to. Pleae contact us to update or remove links.
Works by Lefebvre

Signatory to 'Appeal for Peace in the Middle East' New York Review of Books (14 June 1973)

Interview on the Situationist internationale, October 79 (Winter) 1997.

'Préface' in Vingt ans d'utopies au cinéma. CinémAction - Expressions minoritaires, Michel Serceau. (Condé-sur-Noireau and Paris: Corlet-Télérama)

Méthodologie des sciences (Editions Anthropos, Paris 2002), 230 pages.

Réeditions de Lefebvre - New printings and posthumous publications
There has been a flurry of reprints of Lefebvre's 1930s works by Syllepse and by Meridiens Klincksieck over the 1980s and 90s.

Lefebvre and Norbert Guterman, La Conscience Mystifiée (Paris: Editions Syllepse 1999) 100 F.
New books available in English (c/o Imote book)
NEW: Stuart Elden Understanding Henri Lefebvre: Theory and the Possible, New York: Continuum ISBN 0826470033 (2004) Review coming in the Fall
NEW: Stuart Elden, Elizabeth Lebas, Eleonore Kofman (eds.) Henri Lefebvre Key Writings, New York: Continuum ISBN ISBN 082646646X (2003) Review coming in the Fall
NEW: Henri Lefebvre Urban Revolution English translation of Revolution urbaine Minneapolis: University of Minnesota Press ISBN 0816641609 Review coming in the Fall Critique of Everyday Life Vol 1 Henri Lefebvre, John Moore (Translator) / Hardcover / Published 1992
The Production of Space Henri Lefebvre / Paperback / Published 1991
Writing on Cities Henri Lefebvre / Paperback / Published 1995
Critique of Everyday Life Vol 1 Henri Lefebvre, John Moore(Translator) / Paperback / Published 1992
Everyday Life in the Modern World Henri Lefebvre / Paperback /Published 1994
Introduction to Modernity Henri Lefebvre, John Moore (Translator)/ Hardcover / Published 1995
Introduction to Modernity : Twelve Preludes September 1959-May 1961 Henri Lefebvre, John Moore (Translator) Published 1995
The Sociology of Marx Henri Lefebvre / Paperback / Published 1982
Writings on Cities Henri Lefebvre, et al / Hardcover / Published 1996
Survival of Capitalism Henri Lefebvre / Published 1981 (Hard to Find)
The survival of capitalism : reproduction of the relations of production Henri Lefebvre (Hard to Find)