Molecules
The Interstellar Medium also has dense, cool regions where molecules can be found called Molecular Clouds.
Temperatures less than 100 K.
Molecules detected include: H2, CO, H2O, C2H5OH and other complex organic molecules.
Density of molecules in this room: 2 x 1025 molecules per cubic metre.
Density of molecules in a molecular cloud: 109 molecules per cubic metre. (Dense by astronomical standards, but not by Earth standards.)
Molecules have energy levels:

When an electron jumps from one energy level to another a UV photon can be emitted or absorbed which a UV telescope can detect.
When the molecule's spin changes a radio frequency photon can be emitted which a radio telescope can detect.

We can detect molecules by using a radio telescope tuned to the radio waves emitted by the molecules.
Unfortunately, molecular Hydrogen, H2, doesn't emit radio waves.
Usually astronomers try to detect CO instead.
CO emits at a wavelength of 2.6 mm.
Typically there are 10,000 H2 molecules for each CO molecule.
A Molecular Cloud in the Constellation Orion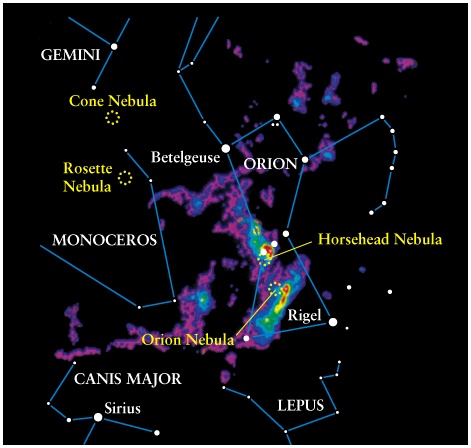 Radio "photo" showing CO emission