Gene Interaction (Position Type)
A C gene in the trans position to D can suppress the D gene. For example, in the genotypes CDe/Cde or cDe/Cde the C gene that is trans to the D gene can suppress it and the person will have a weak form of the D antigen. People with the gene interaction type of weak D can transmit a normal D gene to their offspring (Figure 5-3).
Figure 5-3. Example of inheritance for position-type Du.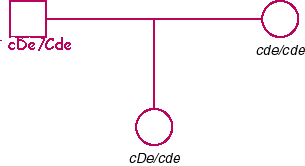 In Figure 5-3 the father is a weak D (Du), but his offspring has inherited a normal D gene and has normal Rh(D) positive red cells. Therefore this type of weak D is not directly inherited, i.e., cannot be transmitted directly to offspring.
---
| | | |
| --- | --- | --- |
| | Gene Interaction (Position Type) | |
---