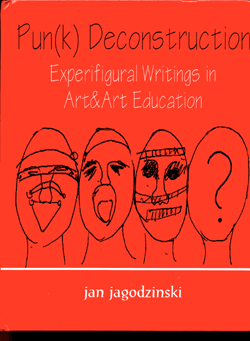 In Pun(k) Deconstruction: Experimental Writings in Art &Art Education and Postmodern Dilemmas: Outrageous Essays in Art&Art Education, jan jagodzinski presents a series of essays covering a timespan of approximately I 0 years. These essays chart the theory and practice of art &art education as it relates to issues of postmodernity and poststructuralism concerning representation, identity politics, consumerism, postmodern architecture, ecology, phallocentrism of the artistic canon, pluriculturalism, media & technology, and AIDS.
As a former editor of The Journal of Social Theory in Art Education and a founding member for the Caucus on Social Theory in Art Education, the author attempts to deconstruct the current art education paradigm, which is largely based on modernist tenets, and to reorient art education practice to social issues as developed in both media education and cultural studies. Part of the intent in these two volumes is to undertake a sustained critique of the 1982 Art in the Mainstream (A.l.M.) statement, which continues to be considered as the core values for art education. The distinct inten­tion of this critique is to put forward a new value base for art &art education in the these post-modern times.
Many of the essays raise the need to be attentive to sex/gender issues in art &art education and the need to read the artistic discourse "otherwise." There is a sustained critique of the art programs developed by Getty Center for the Arts, whose arts curriculum presents the paradigm case of late modernist thinking. Some essays are written in a provocative form which tries to accommodate such content. This is particularly the case in Volume 2, where architectural discourse is deconstructed, and which includes an "artistic performance" given by the author in I 987.
This singular set of volumes combines scholarship in the areas of gender studies, aesthetics, art history, art education, poststructuralism, and cultural studies in a unique blend of theory and practice for rethinking the field of art education.