The Germans from Galicia
Definition
Galicia was a crown land of the Austro-Hungarian Monarchy until 1918. Today its territory is located in southern Poland and western Ukraine.


Source: http://freepages.genealogy.rootsweb.com/~menzak/maps/map-ah.jpg
The region was annexed by Austria after the First Partition of Poland in 1772 and organized as the Kingdom of Galicia and Lodomeria. After the Third Partition, Galicia was greatly expanded between 1795 and 1809 as a consequence of the Napoleonic Wars, and in 1846 Cracow was added. The Austrian government promoted the modernization of the land, amongst others, by the settlement of German-language immigrants, the founding of the University of Lemberg (L'viv), the introduction of basic education, and a guarantee of religious tolerance. After 1867, the Poles in Galicia received significant influence at the expense of the Ukrainians. In 1910, 54.8% of the population were Poles, 42.2% were Ruthenians, and 2.9% were Germans.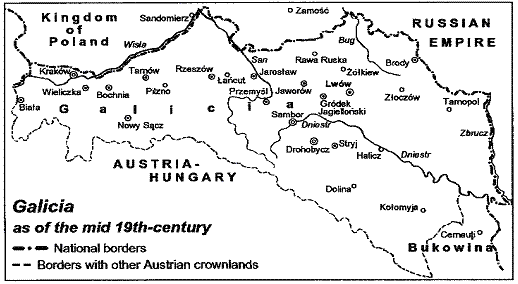 Source: http://www.polishroots.com/images/galicia2.gif
In 1914 Galicia was occupied, briefly re-taken by Austria, until it finally became a part of the new Polish state in 1918. After Poland's annexation by Germany and the Soviet Union in 1939, eastern Galicia became part of Ukraine, and western Galicia was made a part of the Generalgouvernement Warsaw. This division has been maintained to the present between Poland and Ukraine.
Settlement
In 1774, Empress Maria Theresa issued the first settlement patent which gave immigrants permission to settle in the cities and towns. In 1781, Emperor Joseph II. issued the second patent; it allowed foreign settlers also to settle in the country and provided for religious tolerance of Protestants. As a consequence, thousands of families, mostly from the Palatinate, immigrated to Galicia and settled in newly founded German-speaking communities in the country or as craftsmen in the cities.


Source: http://jethon.de/html/landkarten_2.html
At the end of the 18th century the following settlements were in existence: Hohenbach, Reichsheim, Maidhof, Steinau, Königsberg, Schönanger, Josefsdorf und Wildental. A few years later Einsingen, Schumlau, Hartfeld, Kaltwasser, Münchenthal, Weisenberg, Ottenhausen and Brünndorf were added; to the east were Bruckenthal, Wiesenberg und Weinbergen. The largest German settlements were founded to the south and northeast of Lemberg: Dornfeld, Falkenstein, Kaiserdorf, Kranzberg, Josefsberg, Königsau und Brigidau. After 1815, settlements were established in Romanowka und Heinrichsdorf, Deboldowka near Dolina, Michalowka near Rawa-Ruska and Bagingsberg near Kolomea, Polowce. In 1820 Konstantinowka und Mogila southeast of  Stanislau and Theodorshof were added. [1]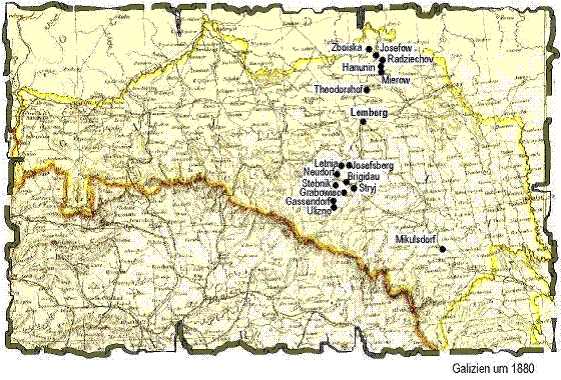 Source: http://www.tritthart.net/gesch/map-Galicia.htm
Before  WW II, there were three German newspapers in Galicia, 95 schools in which German was the language of instruction and 27 Polish schools in which it was taught as a foreign language. [2] In 1939, there were about 70,000 Germans in Galicia. After 1945 only very few remained; many of those who survived the re-settlement and expulsion fled to Germany and then on to the United States and Canada where they had relatives who had emigrated there already at the beginning of the 20th century. [3]




Source: http://jethon.de/html/landkarten_2.html
Settlement in Alberta
The emigration from the German villages began in the 1880s and was directed mainly to western Canada. In 1889 the first Germans from Galicia settled in the colonies of Hoffnungstal, near Langenburg in Saskatchewan as well as in Josephsberg, near Dunmore in southern Alberta. In 1890 Germans from Galicia founded Landestreu near Langenburg, Neudorf, and Lemberg which became stopovers for most of the immigrants from Galicia who arrived later, especially between 1900 and 1908. In Alberta, they also settled in Edmonton, Stony Plain, Spruce Grove, Golden Spike, and Josephsburg. [4]
In 1889, 630 Germans, mostly from Galicia, founded a colony south of Dunmore. Their scouts had been fooled by the mild climate and the quality of the soil, but neither they nor the immigration agents had considered the hot winds and usual paucity of precipitation which made farming without systematic irrigation in this area virtually impossible. After three years of drought, the newly founded Josephsberg and Rosenthal colonies south of Dunmore and the colony east of Seven Persons were almost totally abandoned. Some of settlers went to Saskatchewan, but others moved to the Edmonton area.
The Lutherans from Galicia founded Hoffnungsau and Rosenthal (Stony Plain) while 24 families of Reformed Germans from Galicia founded Josephsberg near Fort Saskatchewan. In 1897 there were more than 40 families in the colony.
After 1901, immigrants from Galicia established Golden Spike, where, around 1910, German families from Russia also settled.
According to Lehmann's personal research with Galician immigrants, most can be traced to the districts of Drohobycz and Stryj, primarily to the communities of Josephsburg, Neudorf, Gassendorf, Bolechow, Gelsendorf, Duliby, and the town of Stryj. Other places mentioned were Kaisersdorf, Alt-Jazow, Münchenthal, Hartfeld, Ottenhausen, Weissenberg, Ebenau, Landestreu, Neu-Kalusz and Kamionka Strumilowa.
Almost all the immigrants from Galicia were Lutherans. Only a few small groups professed the Reformed faith and Catholicism. [5]
Notes
[1] "Egerländer Heimatgeschichte," http://www.galizien-online.de/history/machliniec/Machliniec.html. Accessed on April 16, 2004.
[2] Thierfelder, Franz, "Deutsche Sprache im Ausland," in: Wolfgang Stammler (ed.), Deutsche Philologie im Aufriss, Vol. I (Berlin 1957, p. 1406).
[3] "Galizien-Online," http://www.galizien-online.de/. Accessed on April 16, 2004.
[4] Lehmann, Heinz, The German Canadians: 1750-1937. Immigration, settlement and culture. Translated, edited and introduced by Gerhard P. Bassler (St. John's, NF: Jesperson Presss, 1986), pp. 119-120.
[5] Lehmann, p. 120.