Profile of Edmonton's German-speaking community around the turn of the 20th century
The settlement of German-speaking immigrants in Alberta proceeded from south to north; consequently, the number of persons of German origin in the Edmonton area in the 1880s was still very small. According to the Canadian Census of 1885, there were only 13 persons of German origin in the Edmonton District. By 1901 their number in the city, however, increased rapidly to 200 and to 1,647 by 1911.
In addition to ethnic origin, the immigrants' place of birth is, of course, another important criterion for assesssing the "German" presence in the Edmonton area. While Census data always have to be viewed with caution (click here for a discussion of the limitations described in the analysis of the Calgary data), the results are instructive (see details).


| | | | |
| --- | --- | --- | --- |
| Country of birth | Resident in Edmonton | Children <15 born abroad | Total |
| Austria | 6 | | 6 |
| Germany | 75 | 4 | 79 |
| Russia | 13 | 1 | 14 |
| U.S. | 41 | 9 | 50 |
In 1901, the largest number of "German" immigrants to Edmonton was born in Germany (N=80), followed by immigrants of likely German origin from the U.S. (N=50). Compared to other localities, the number of "German" immigrants from Russia in the city was comparatively small (N=14, out of a total of 55 persons born in Russia), as was the number of immigrants from Austro-Hungary who were likely of German origin (N=6, out of altogether 36 immigrants from the Monarchy; see the limitations). On the other hand, Edmonton drew proportionately more immigrants who had been born in Germany.
In Calgary (see details), 40 persons each reported to have been born in Germany or Russia.
Of the total population of almost 700 of Bruderheim, 320 persons were born in Poland, 266 persons in Austria, 55 from Russia, 23 in the U.S., 16 in Germany, and 9 in Galicia (Ukrainian/Polish).
In Stony Plain Centre (N=650), 210 settlers were born in Austria, 91 in Russia, 54 in the U.S., 34 in Germany, and 5 in Poland.
In Spruce Grove (N=602), 121 residents were born in Austria, 100 in Russia, 45 in the U.S., 41 in Germany 41, and noone in Poland.
While the immigrants spread widely across the region around Edmonton at that time, they tended to gravitate to the downtown area in Edmonton - in particular East Edmonton - and, later, to Strathcona across the Saskatchewan River. This pattern would hold for decades.
The 1884 Henderson's Gazetteer and Directory of Manitoba and the Northwest Territories listed the blacksmith Edward Lorely as the only person with a German-sounding name. Two years later, he was still the only Edmontonian with a name that was likely to be German. By 1895 fourteen such individuals were recorded, among them William Brandt (barbershop owner), a Miss Lilge (dressmaker), F. Mayerhofer (employee in the Edmonton Dye Works), G. Schieck (laborer), Charles Stuber (butcher), John Umbach (carpenter) and P. Wagner (tailor).
Jasper Avenue and 97 Street (ca. 1912)
Inferring a "German presence" from a list of German-sounding names in a business address and telephone directory is, at best, a hazardous undertaking. At that time, there was no guarantee that in fact all Edmontonians or Calgarians were listed in the Directory, or were indeed listed with the correct spelling of their names; it is possible therefore that a few inhabitants of German origin may have been overlooked inadvertently. More importantly many names can, of course, not be assigned uniquely to one language or another. "Neibergall" probably indicates German origin; the spelling variation may be due to a printing error or a transcription error, or the person may have informally or legally changed his name. "Korngiebel", "Leistner", "Mueller", Grueningen" are very likely names indicating German origin as would "Koch", "Querengesser" or "Rasch." But then there is "Sugarman"; he was repeatedly referred to in the German-language newspapers as "running the finest German store in Edmonton"; presumably he had changed his name from "Zuckermann", but it is impossible to be sure. Similarly, "Kline" may be a recent change from "Klein", and "John Black" from "Hans Schwarz". "Eden", "Gross" and "Guttmann" may refer to German origin of some kind in the person's background, but not necessarily so. The ethnic reference in last names such as "Walter", "Martin", "Wolf" or "Jordan" must remain indeterminate.
Yet, keeping track of the number of German-sounding names in the business community certainly offers clues to the number of residents of Edmonton or Calgary who were of German origin in the cities' early days - especially if care is taken to use the same criteria for selection, and to err on the side of caution in selecting names for inclusion. In the following, data on persons of apparent German origin are presented from the Henderson's Directories of 1908, 1909, 1910, 1911, 1912 and 1914. All names specified a profession or occupation.
In some directories, entries were listed by occupation (see below). This made it possible to establish occupational groups, such as "baker" or "butcher" for members with German-sounding names. Therefore, in addition to vetting the alphabetical listings, specified groups could be checked for persons whose origin might have been "German."
Some directories provided listings by street and house number. Since "the Germans" around the turn of the 20th century tended to settle in downtown Edmonton in an area from First Street (101 Street) to Syndicate Avenue (=95th Street) and north to 111 Avenue, and in Strathcona (South Edmonton), it was possible to check every name listing in this area, providing good assurance of complete coverage of "the Germans" living or working in East Edmonton. The following map shows their distribution.
Most Germans had their places of business or employment along Kinistino Avenue (=96 Street) and Namayo Avenue (77th Street), but they were also spread out along Jasper Avenue East and Queens and Fraser Avenues.
Overview
Between 1908 and 1914, the number of tradesmen or business people in East Edmonton ranged between ca. 30 and 75.
| | |
| --- | --- |
| Year | Number |
| 1908 | 50 |
| 1909 | 31 |
| 1910 | 53 |
| 1911 | 50 |
| 1912 | 38 |
| 1914 | 78 |
By tracing a name and address backwards and forwards in time in the directories it was possible to determine for how many years a person was listed in the directory, either at the same or at another address.
There were 133 unique individuals of likely German origin listed – in consecutive years or with interruptions - in the six directories selected:
| | | | | | |
| --- | --- | --- | --- | --- | --- |
| 1 year | 2 years | 3 years | 4 years | 5 years | Total |
| 83 | 16 | 14 | 5 | 15 | 133 |
| 62% | 12% | 11% | 4% | 11% | |
More than half were "in business" for only one year; 12% for two and 11% for three years, either listed consecutively or with interruptions.
Edmontonians with German-sounding names were active in more than 40 occupations or professions, most of them as grocers (N=13), butchers (N=11), carpenters (N=10) or real estate agents (10):
| | | | |
| --- | --- | --- | --- |
| Occupation | N | Occupation | N |
| barber | 3 | hardware store owner | 3 |
| baker | 1 | interpreter | 2 |
| blacksmith | 2 | jeweler and optician | 2 |
| rooming house operator | 7 | laborer | 6 |
| bookstore owner | 1 | lawyer and notary public | 3 |
| boot and shoemaker | 8 | feed and stable owner | 1 |
| business manager | 2 | mason | 1 |
| butcher | 11 | millhand | 1 |
| carpenter | 10 | moulder | 1 |
| cattle buyer | 1 | nurse | 1 |
| cleaner | 1 | factory owner | 1 |
| clerk | 2 | general store owner | 3 |
| tailor, clothing dealer | 6 | restaurant/café owner | 3 |
| contractor | 1 | hotel owner | 3 |
| dressmaker | 2 | painter | 1 |
| editor | 2 | photographer/studio owner | 3 |
| optician | 1 | plasterer | 2 |
| flour and feed dealer | 4 | plumber | 3 |
| fur buyer | 1 | real estate agent | 10 |
| gardener | 2 | pool room owner | 1 |
| saddler | 1 | dye works owner | 2 |
| grocer | 13 | bathhouse owner | 1 |
| gunsmith | 1 | stationer | 1 |
German business and tradespersons listed in the 1914 Henderson's Edmonton, Alberta City Directory, or mentioned or advertised in the German-language newspaper Alberta Herold for that year
The Alberta Herold Building; next to it was Edmonton's first German bookstore.
The Alberta Herold, founded in 1903 as Edmonton's first German-language newspaper, was located at 252 Namayo Avenue in Edmonton.
William Anton was a barber with a shop at 9605-100A Avenue.
The Austrian Barber Shop was located at 531 Kinistino Avenue.
The Austrian Poolroom was located at 531 Kinistino Avenue.
J. Bargemann was a co-owner of the Owl Café at 822 1/2 First Street.
Henry Bauer was a grocer with a store at 6818-127th Avenue.
David Borcherding was the owner of the German Bookstore at 722 Namayo Avenue.
Lydia Bruegmann - formerly the owner of the German Bookstore - ran a stationery at 260 Namayo Avenue.
Jasper Avenue looking east (1896)
Heinrich Becker was the editor of the Alberta Herold at 109 Queens Avenue.
Hermann Carl and Herman Schmitt had a butcher's stand in the Central Public Market on 2nd Street.
Emil Claassen owned a photographer's studio at 720-1st Street.
Ludwig Deggendorfer was a grocer with a store on 120th Street.
Peter Ecker was a moulder located at 339 Namayo Avenue.
Emil Egli had a rooming house at 799-102nd Street in Edmonton.
Frederick Falkenberg was a carpenter located at 709 Fraser Avenue.
Frasch Fotos was located at the corner of Boyle Street and Namayo Avenue.
The First German Baptist Church was located at 96 Street and 106A Avenue.
The German and Reformed Dutch Church was located at 1515 Kinistino Avenue (10857-96th Street).
The German Bookstore was located at 722 Namayo Avenue (=10628-97th Street) in Edmonton.
The German Club Edelweiss was located at 216 Morris Street.
The German School was located at 1818 Kinistino (St. Peter's Lutheran Church).
The Hager-Harder Co. owned a grocery at 701 Fraser Avenue.
Heinrich Haubnel ran a barbershop at 630 Kinistino Avenue.
Joseph Hehsdoerfer was a butcher at 558 Jasper Avenue West.
Adam Heibges owned a restaurant at 69 Fraser Avenue in Edmonton.
George Hennig was the owner of a general store at 1135 Namayo.
Thomas Hindle was a tailor in the Deggendorfer Block.
The Hoffman House - a rooming house - was located at 353 Fraser Avenue.
Hofmann and Harms were real estate agents at 421A Namayo Avenue.
William Hencher was a grocer at 265 Namayo.
Carl Henningsen was the proprietor of Henningsen's Dye Works at 142 Wilson Street.
The Huber Bros. were painters at 536 Tegler Building.
Albert Huber was an employee of the Bohemian Made Brewery at Edmonton, one of many German-Canadians employed by breweries.
George Huffmann owned a pool room at 10326 (538) Kinistino Avenue.
Conrad Jordan was a tailor; he had his business at 821 Namayo Avenue.
Jacob Juhl was a plasterer located at 672 Jasper Avenue.
Albert Kals was a shoemaker at 611 Namayo Avenue.
P. Karrer was a dentist with an office at at 308 CPR Building.
E.A. Kemp and Son were plumbers at 301 Fraser Avenue. In 1912, their shop was located at 349 Namayo.
Adolph Kleinfeld was a butcher located at 1236 Kinistino Avenue.
Herman B. Kline was a jeweler at 9838 (303) Jasper Avenue.
Ed. Klingbeil owned a plumbing and heating company at 7711-99th Street.
Gus Klukas was a plumber at 1022 Namayo Avenue.
The Kocher Meat Market was located at 9553 Rice Street.
Ernest Kolzig ran a boarding house at 65-69 Fraser Avvenue.
Namayo Avenue (97 Street) looking North, 1914.
Wilhelm Krankenhagen - editor of the Alberta Herold - was a notary public with an office at 109 Queens Avenue (=10159-99th Street).
August Kunze was a shoemaker at 8521-118th Avenue.
Max Lauer was a clothier with a shop at 718-1st Street.
Gus Leistner was a co-owner of the Owl Café at 822 1/2 First Street.
Jacob Lumm ran a grocery at 812 Kinistino Avenue.
Adolf Minchau was a blacksmith at 7719-99th Street.
Charles Muller and Sons were the owners of East End Bakery at 501 Kinistino.
The Northern Hotel - built and managed by R.F. Klein - was located at 200 Namayo Avenue.
The Pendennis Hotel - housing the "best German restaurant in Edmonton - was located at 9660 (561-7) Jasper Avenue East.
Dr. Herbert Prust was a physician with a practice at 102 Balmoral Bulding.
Herman Raglin was a grocer at 1743 Kinistino Avenue.
Herman A. Rasch was a lawyer and notary public at 434 Jasper Avenue.
The Rasch-Miller Co. was a real estate and investment companmy olocated at 318 Jasper Avenue East.
George Rehkopf was a carpenter located at 1350 Namayo Avenue.
Adam Reif was a shoemaker at 10314 (516) Kinistino Avenue.
Charles Reinhardt was the manager of the German Club at 9352 (216) Morris Street.
Emil Schelstraete was a shoemaker at 12832-4 Fort Road.
August Schneider was a laborer. He lived at 1640 Kinistino Avenue.
Paul Schubert founded the P.M. Schubert Deutsches Land- und Notargeschäft. In 1914, the agency was located at 10166 (224) Namayo Avenue.
Adolph Schultz was a shoemaker with two shops, one at 10407 Whyte Avenue and the other one at 10113 Whyte Avenue in South Edmonton.
George Schwindt ran the only German saddlery in Edmonton at 10656-1st Street.
William Semaka had a butcher's shop at 615 Kinistino Avenue.
Henry B. Speer was a grocer at 875 Fourth Street.
Otto Strand was a shoemaker at 9102 (738) 111th Avenue.
William Stubbe was a notary public with an office at 107 Queen's Place in Edmonton. He, Hans Mecke and W. Krankenhagen ran the Capital Land Company at 107 Oceans Avenue in Edmonton.
John G. Suss had a meat market at 228 Norwood Boulevard.
Henry Thode ran the Columbia Hause, a German Gasthaus and restaurant, at 305 Queens Avenue.
Thomas Trott had a rooming house at 207 Fraser Avenue.
The Vienna Café had two locations, one at 10251 (421) Kinistino Avenue and the other one at 10511 (1008) 1st Street.
The Viewegar Studio was located at 9 Northern Block in Edmonton.
Jacob A. Werner had a hardware store at 62 Queens Avenue.
Herman Wulff owned a barbershop at 11203 Jasper Avenue.
Ernest W. Zurch was a shoemaker at 10553 Whyte Avenue in Soth Edmonton.
Club life
Edmonton's Edelweiss Club was founded on April 24, 1905 and was officially incorporated in 1906 with a charter from the Legislature. Gustav Koermann, the founder and publisher of the Alberta Herold, was its first president. Plans were made immediately to build a club house, and the first part of the building was openened in January 1906 at the intersection of Kinistino Ave and Elizabeth Street (=9568-102 Avenue); it would be completed in January 1908.
But club activities had begun long before. Before the official incorporation, the Club had a house built to serve as a gathering place and reading room for the German-speaking population. In September 1905 the Club organized the display of a statue of Germania in full armor on a float which was part of the parade in celebration of the founding of the province of Alberta. Club members marched along with Germans from Strathcona, Morinville and elsewhere in the parade. In November of the same year, more than 100 people attended an "enjoyable dance and entertainment evening." The Opening Ball in January 1908 attracted more than 200, and the first German concert in Edmonton was held in February. Another building for the Club was erected and opened in September 1912 at 216 Morris Street (=9352-106A Avenue).
As was the case with the German club in Calgary, the Edelweiss Club suffered regularly from internal disputes, and frequently the German-language papers printed readers' suggestions as to what should be done to solve these problems. But the Club continued to exist, even into the War when the club house was rented out to the Liberal Association of East Edmonton in the spring of 1915. The Club was obliged to disband in 1916, not to re-organize until the early 1920s.
In addition to the Edelweiss Club, Edmonton's German-speaking community enjoyed the presentations of the Germania Choir founded in 1908 and soon consisting of 20 men and 17 women. On January 17, 1908 the Alberta Herold reported that a club called Russisch-deutscher Verein was founded by a number of Germans in the city, but there is no mention again of it in the papers. There was the Stony Plain German Association; as well, a German Club of Morinville and St. Albert flourished for a while in 1907/1908, but there were difficulties, and the club soon disappeared from the readers' view. In June 1913, the Alberta Herold reported that the German Consul and the Consul had accepted an honorary membership in the recently founded Jung-Deutschland-Verein.
In 1913, the view among German-Canadians came to be increasingly accepted that "the Germans" in Canada needed to be united in one large organization rather than be split up and of a divided mind on issues concerning them. The question was how such an organization should come into existence. Many German-Albertans rejected the idea of a top-down organization of German-Canadians as was proposed by the Deutsch-Canadischer Nationalverband (German-Canadian National Alliance), newly founded in Winnipeg. In response, the Bund der Deutschen in Alberta (Federation of Germans in Alberta) was established in 1913. The Bund's general objectives were to promote and protect the interests of German-Canadians in Alberta; in particular, to further the teaching of German in public schools, to nominate and support candidates of German origin in local, provincial and federal elections, to campaign for the publication of the most important laws in German, and to promote German immigration to Alberta and expanded trade relationships between Germany and Canada. It was hoped that this organization and others like it across the country would eventually merge.
Over the next few months the Bund received a great deal of support from the Alberta Herold, and the Germans were exhorted to join because "strength is only in unity". In June 1913 the provisional by-laws were accepted and the first Ortsgruppe (local section) was founded with Wilhelm Krankenhagen as its first president. A few local groups of the Bund sprang up across the province, for instance in Bismark, where in January 1915 an Ortsgruppe was founded with 17 members and in March was able to report six more members. But on the whole, the response was lukewarm, and the Bund remained just another local organization in Edmonton.
Churches
Around the turn of the century, numerous congregations of various faiths had located in the vicinity of Edmonton (see map above). In the first decade of the 19th century three German-language Lutheran, a German Baptist church and two Moravian churches ministered to the spiritual needs of the faithful.
St. John's First German Lutheran Church, 1914. Glenbow Archives: NC-6-851
The history of St. John's Lutheran Church goes back to 1903. The first services were held by Rev. Poensgen in a rented hall in February 1903. A mere year later, the congregation had its first small church. St. John's Lutheran church on 96 Street in Edmonton was built in 1906. The cornerstone for the third church of the St. John's congregation on 97 Street was laid in 1909 by Rev. Henry Harms; it was opened in March 1910.
St. Peter's Lutheran Church,1914. Glenbow Archives: NC-6-853
The first services for what would become St. Peter's Lutheran Church were held in Roberts Hall (97 Street and Jasper Avenue) on May 18, 1894 by Pastor Emil Eberhardt from Stony Plain. The first constitution of the church was accepted and signed in 1904. The following year the congregation tried to amalgamate with St. John's Lutheran Church, but the attempt was unsuccessful; therefore the St. Peter's congregation resolved to purchase their own property and build a church at 107 Avenue and 103 Street. On September 30, 1906, the church was dedicated. New property at 96 Street and 110 Avenue was purchased in 1911; the first building was meant to be the school where they also held services. Under Pastor Rehwinkel a new church was erected at 93 Street and 116 Avenue.
Trinity Lutheran Church
The history of the Trinity Evangelical Lutheran Church congregation began in the late 1800's with the immigration of Lutherans from Germany, Poland, Austria and Russia into the Strathcona District. Initially they settled in communities adjacent to Strathcona, such as Bruderheim and Bruderfeld. By the early 1900s, however, a sufficiently large German population in Strathcona had developed through emigration form the rural areas to warrant the establishment of a Lutheran church there. On June 22, 1902 Trinity Evangelical Lutheran Church at the corner of 101 Street and 81 Avenue was dedicated, and a 28' by 40' wood frame structure was built in the same year; it would serve the congegration until September 6, 1914 when a new church was opened.
German Baptist Church, 1914. Glenbow Archives: NC-6-874
Some early Baptist churches in the Northwest Territories were founded between 1876 and 1894. In 1892 Rev. Petereit, the first Baptist missionary in Alberta, organized the first Baptist church in Alberta at Rabbit Hill near Edmonton. The First German Baptist Church (Erste Deutsche Baptistengemeinde) was founded in 1900. On December 12, 1901 the Alberta Herold reported that "last Sunday, the new German Baptist Church was solemnly opened," it was located at Namayo Avenue and Isabella Street (97 Street. and 104 Ave.). In 1912 the congregation moved to a new church building at 96 St. and 106A Avenue.
Moravian Church, Edmonton, 1914. Glenbow Archives: NC-6-847
Originally known as the Strathcona Moravian Church, this congregation was organized on June 12, 1905 on Edmonton's south side. The first pastor was Reverend Gottfried Henkelmann, and services were at first held in a small chapel located in a converted pump factory which was acquired from the German Baptists who had decided to concentrate their work on the Northside and were willing to sell their propertyto the Moravians. On July 12, 1908, the cornerston was laid for a new church at 99th Street and 84th Avenue. In 1912, the congregation changed its name to the Edmonton Moravian Church. As the congregation grew, it relocated first to a wooden structure and then to the building which it currently occupies.
Norwood Moravian Church was officially opened on December 1, 1907 on Edmonton's north side with Reverend Gottfried Henkelman serving as the first pastor. However, the congregation did not thrive and was dissolved in 1922.

On December 21, 1906, the Alberta Herold reported that "there will be at least one German-language service a month in the new Catholic church (Immaculate Conception) on Kinistino Avenue." However, no further reference to the existence of such services were found.
Newspapers
The first German-language paper in Alberta was the Alberta Herold; it was first published in May 1903. Its owner and editor was Count Alfred von Hammerstein, an entrepreneur who learned about newspaper publishing while working for the Edmonton Bulletin. However, he soon sold the paper to Gustav Körmann who - after having worked for Winnipeg's Nordwesten - came to Edmonton, acquired the Herold and managed and edited it. For Körmann, a German-language paper had an important role to play for the maintenance of German language and culture in Canada. The paper was pro-Liberal in its orientation.
In 1908, the Herold gained a competitor in the Deutsch-Canadier. It was first published in Edmonton, but soon moved to Calgary. This newspaper started out with pro-Conservative editorial view, but became pro-Liberal after its move to Calgary. Both papers claimed to be the champions of the interests of German-Albertans and frequently endorsed candidates or called on the German-speaking community to become more active in political affairs. On the first anniversary of the Deutsch-Canadier's existence, the editor (Otto Woysch) introduced the Deutsch-Canadischer Farmer, a weekly - from 1911 on monthly - supplement concentrating on the specific needs and interests of the German-speaking farmer. Its editor was Alexander von Mielecki. The Deutsch-Canadier continued to prove to be imaginative in its business affairs: In January 1913, the Deutsch-Canadier introduced a 200-page Deutsch-Canadier Kalender which was sent out free of charge to all who paid up their subscription for 1913 in advance; it would also be published for 1914.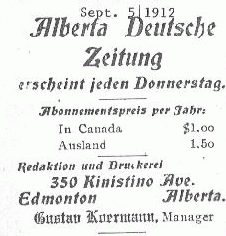 In August 1910, Körmann resigned as the Herold's editor, and William Krankenhagen (born in Hannover, Germany in 1885; came to Alberta in 1904) and Heinrich Becker became its co-editors. In October, the Alberta Herold also launched a - short-lived - farmer's supplement, the Farmer Freund. In the same month, Körmann announced the launch of the Alberta Deutsche Zeitung in Edmonton. While the Deutsch-Canadier (located in Calgary) wished the Alberta Deutsche Zeitung and Koermann success in the new enterprise, relationships between the Edmonton's rivals Gustav Körmann und Wilhelm Krankenhagen and H. Becker became even more strained. The Herold published frequent vitriolic attacks on Körmann and the quality and integrity of his newspaper ("the Blättchen which no one reads anyhow"). The ADZ soon experienced financial difficulties, appeared irregularly, was sold and ceased publication, probably in early 1913.
In June 1911, the Alberta Herold published a reprint of an article from a U.S. German-language newspaper which carried strongly chauvinistic undertones ("Lob des Deutschtums"); this marked the beginning of an increasingly strident pro-German editorial stance.
Both Alberta Herold and the Deutsch-Canadier suffered financially in the last months before the outbreak of the War because it was virtually impossible to obtain advertising. On Septemnber 3, 1914, the Deutsch-Canadier published its last issue containing, amongst others, the government's proclamation which reassured all aliens that everyone who followed Canadian law could pursue his business and live in peace.
The Alberta Herold continued to publish, but soon got into difficulties because of what was perceived by the English-language media and some politicians as pro-German coverage of the War. Most English-language papers and the Conservative politicians called for its suppression, but the Liberal-dominated legislature shifted the responsibility for censure or closure to the federal government. No official action was ever taken before the paper published its last number on May 15, 1915.
In the Herold's final weeks, Krankenhagen wrote a chronology of alleged anti-German actions in Alberta, claiming that Canada was pursuing a "war against the Germans" ("grausiges Kriegswüten") in Canada itself. Among the events Krankenhagen listed as evidence for a Hetzjagd gegen die Deutschen were the following: The Columbia Rooming House in Edmonton was searched for German spies; a man in Peace River Crossing was suspected of having been in personal contact with the Kaiser and was arrested; an alleged German officer was arrested in Edmonton; he turned out to be a native-born Canadian wearing a masquerade costume; three homesteaders were arrested for the possession of weapons; but they lived in remote areas and did not even know that there was a war on.
On January 13, 1915, the Courier in Winnipeg announced that
"because the Alberta Herold will suspend its publication this coming week leaving Alberta without a German-language newspaper, the Courier is herewith sending sample copies of the paper to selected addresses in Alberta. Mr. Heinrich Becker, long-time editor of the Herold, will write a special page on Alberta ("Alberta Nachrichten") and will be responsible for all Courier affairs in Alberta and British Columbia."
The Courier would continue to publish; however, from September 1918 on in English.
On July 24, 1918, the Courier reported that "William Krankenhagen, former editor of the Alberta Herold, was arrested in his hometown of St. Paul. He is accused of having sent goods to Germany via Mexico and will now be interned for the duration of the war."
Edmonton's Germans in local politics
Considering the size of the German-speaking community, Edmonton's "Germans" were singularly unsuccessful in getting one of their countrymen elected to civic office. William Vogel was the only one to even come close.
Wilhelm Vogel was born in Saxony on June 20, 1866. After having apprenticed as a butcher he came to Canada in 1887. He worked for two years in Winnipeg and then moved to the Medicine Hat area where he took up a homestead. He had to sell it after a year because of the drought, worked in Lethbridge, returned to Dunmore and finally came to Edmonton in 1891. After a few years in his old trade, Vogel went into business for himself, organizing the Vogel Meat and Packing Company of Edmonton.
Vogel was an alderman for the City of Strathcona before its amalgamation with Edmonton in 1912. He ran for the new city council in 1912 and was supported strongly by the Alberta Herold, but "was not elected because the Germans were not united."
---